Licensed and insured foundation professionals in northeast Ohio
About our foundation repair company in Akron, Ohio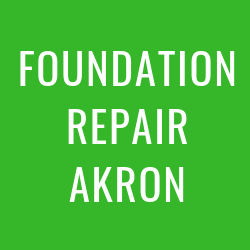 Foundation Repair Akron is a full-service concrete, masonry, and brick contractor. We are fully licensed and insured company made up of a team of basement contractors, foremen, structural engineers and other technicians.
We have been in business as a foundation repair company for more than 20 years in northeast Ohio. Though we are headquartered in the great city of Akron, who assist residential and commercial customers throughout Summit, Portage, and Stark counties.
Our service extends north to the southern Cleveland suburbs south to Canton, Massillon and Alliance. We go as far east as the Pennsylvania border and west to central Ohio.
Our services include repairs for concrete, block, brick, and stone foundation wall and floor cracking, bowing, leaning, sinking, settling, leaking and more. Additionally, we offer skilled basement waterproofing, tipping and damaged chimney restoration, concrete, brick and stone repairs, and masonry service for fireplaces, patios, porches, steps, walkways, retaining walls, and more.
We rely on modern repair methods that deliver long-lasting warrantied results. They include: helical piers, wall anchoring, steel I-beams, steel push piers, plate anchors, hydraulic slab lifting, foundation brackets, and hydraulic cement, caulk, epoxy injections, mortar, polyurethane polymer and more for minor repairs.
We offer free estimates, thorough inspections, detailed repair plans if work is necessary for your foundation or crawl space. Call us today to set an on-site appointment that fits your schedule.