Leaning & Tipping Repairs
Licensed and insured foundation professionals in northeast Ohio
Bowing foundation repair in Akron, Ohio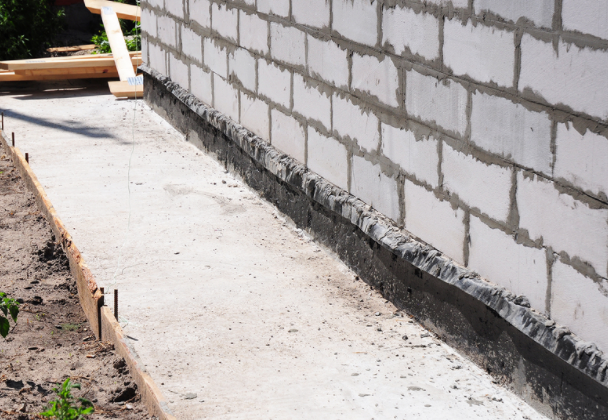 Foundation and basement walls are constantly under pressure from surrounding soils. Those soils expand and contract from time to time, making walls susceptible to bowing, buckling, leaning, tipping and bulging.
If you witness a leaning wall in your basement, the problem is one that started months – if not years – ago.  Proactively reaching out to professional contractor for assistance, may provide a better outcome that is far less costly than if you wait for the wall to bow even more.
Our contractors and engineers in Akron, OH and surrounding areas specialize in repairing tipping walls at affordable rates. We offer several trusted service options and proven methods to stabilize your foundation for many years to come.
Contact us at your convenience or complete the online questionnaire on this page to schedule a free inspection and estimate with one of our certified foundation repair technicians.
Warning signs of a bowed basement wall
A foundation wall under pressure slowly leans in time and isn't noticeable until it's obvious to the naked eye. You'll know you have a bowing wall if you encounter any of the following circumstances in your basement or crawl space:
Wall leaning at the top
Horizontal or stair step cracking
Inward bowingand buckling
Walls sliding in at the bottom
We deliver foundation and crawl space fixes for homes and commercial structures throughout northeast Ohio. For more than 20 years, customers have relied on us for friendly, reliable, and low-cost contractor services.
Repair services for faulty foundations
Stabilizing a foundation halts inward or outward leaning and restores the strength of the walls. We use the following modern methods to repair basement walls:
Steel braces
Carbon fiber
Foundation anchors
Only in rare instances will a wall have to be rebuilt completely from scratch. That option is expensive and requires major excavation of soil around the base of the structure. Alternative procedures, fortunately, are oftentimes adequate for permanent stabilization.
With our free evaluations we'll outline the best options for your home or business foundation.
Ever wonder what has caused your foundation to lean in or out.
The following factors can cause bowing and buckling:
Heavy, water-logged soil from poor drainage, and runoff from gutters and downspouts
Pressure from nearby tree roots
Hydrostatic pressure
Expanding and contracting soil that pushes and pulls foundation walls